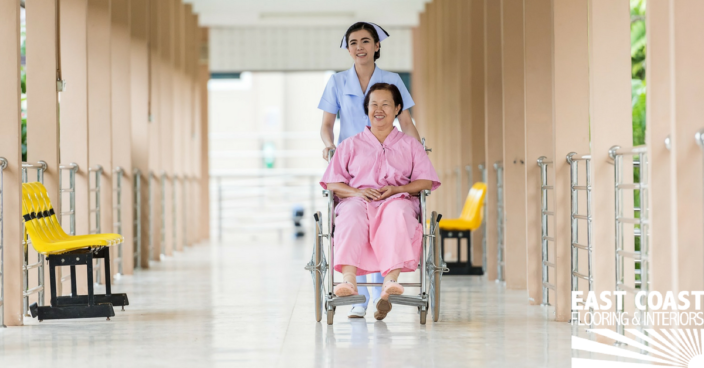 What is the best flooring for assisted living facilities? Safety, durability, ease of maintenance, and sound absorption are key. But above all, you need commercial flooring installation solutions that enable you to pull up existing floors and lay down new surfaces the same day. You can't risk displacing residents.
Here are our recommendations for the types of floor that fit all these needs:
Carpet.

When it comes to

flooring for assisted living facilities

, it's hard to beat carpet. Carpet is cushioned underfoot and comfortable to walk on. It isn't slippery, so you mitigate the risk of falls. Additionally, It won't send footsteps echoing down the hallway, and it's warm, so your residents won't feel cold all the time.
Rubber.

This is a superb choice – soft, warm, slip resistant, and easy to clean with a good wax treatment. The one drawback is that it's more expensive than the other types of flooring listed here. It's the best choice with the possible exception of carpet, but may not be practical for facilities remodeling on a tight budget.
Linoleum.

Easy to maintain, linoleum rejects microbes naturally. You may want to install padding underneath it to make it softer. The surface can be a little slippery, but not like glass or tile. Price-wise, linoleum is more expensive than carpet, but not as expensive as rubber. Because of its qualities, it makes a good choice for bathrooms, kitchens, or other floors that encounter spills. You may also want to look at vinyl for these spaces. The trade-off with vinyl is that many vinyl floors release VOCs that are hard to be vented out in enclosed spaces.
Cork.

This is a soft, thick material that's easy underfoot. It will also help insulate against noise. It gives good grip to your feet, so slipping is rare.
One drawback is that cork is soft. It will incur damage from sharp objects, dropped objects, and especially from water. It should be sealed every year to avoid looking worn.
Contractors experienced in commercial flooring installation can help you make the right choice for your assisted living facility.