Stylish Outdoor Flooring Ideas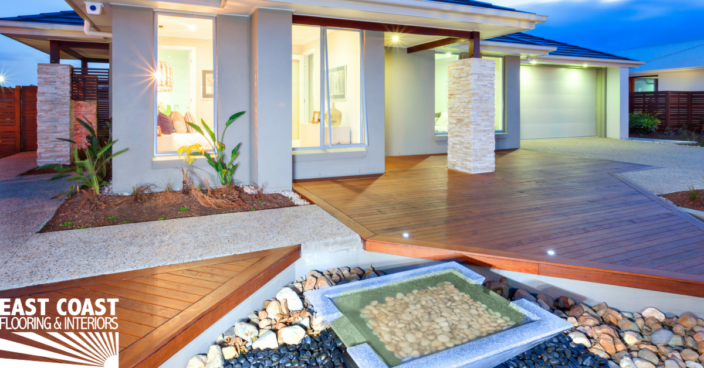 A South Florida flooring contractor sees a lot of outdoor flooring. What works best for patios and porches? Is there something better than concrete to have around the pool? Is there a trend going out of style, or will the classics still work for eternity? We'll try to answer these questions below, starting with a classic for outdoor residential flooring and moving from there.
Wood Decking
Wood is versatile, so you can give it a comforting look or a modern polish. You'll need to protect your deck against the elements with a deck sealer. This defends against moisture and mildew. When you do, wood is exceptionally durable and keeps its look for a long time. Another advantage is you can always re-finish it when the surface starts to look worn.
Engineered Wood
This is a controversial choice for outdoor use. It's not "traditional," but it is easier to maintain. Engineered wood may get a little hotter under the sun than traditional wood, but it's a breeze to clean and will hold up better in an outdoor environment.
Tile
A tile patio is classic. Just make sure not to overdo it. Keep things simple. Tile already communicates an upscale look. It's better for a patio surface closer to the ground, and not as ideal for raised porches. This in part because it can get slick with weather. Tile does hold up well, and it's incredibly easy to maintain.
Brick
A brick patio should be entrusted to a South Florida flooring contractor. When installed incorrectly, brick can be a costly headache. It can chip and require high maintenance and replacement costs. Brick is a high risk, high reward option. When installed correctly, it's durable and easy to maintain. Brick will also absorb heat and resist slipping.
Rubber or Foam
These are ideal for playground areas. You can always leave these natural grass, but rubber and foam are slip resistant and can add some extra cushion. Rubber is surprisingly durable and will stand up to the elements.
Foam isn't as durable, but it is waterproof. This makes foam tiles a good choice to have around the pool. It can make the difference between a slip resulting in injured pride instead of a hospital trip.
Need help choosing an outdoor flooring option? Give us a call.