Modern Carpet Trends for 2018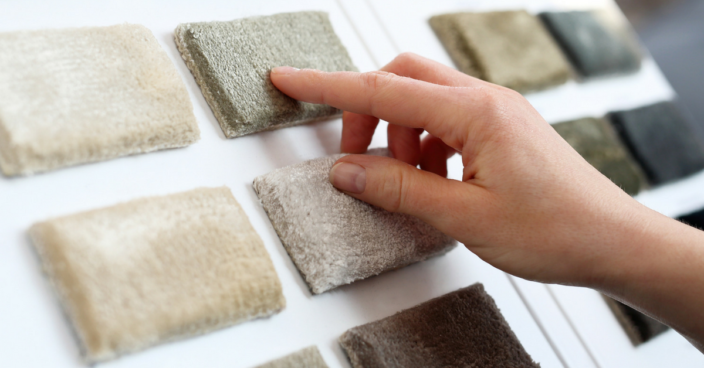 As an experienced South Florida flooring subcontractor, we have seen it all. We've torn up every type of carpet flooring. We've scratched our heads at carpet that looks like lava from a 1990s video game. We've stood beside homeowners who furrowed their brows at living room carpet that makes them think they've been teleported to an airport waiting room. We've even been archaeologists digging up Legos that have been buried for decades in shag carpet. We've removed it all so that we can start fresh and give people carpet that makes them proud.
We've seen the trends that have raged and then passed – and that raises some good questions about carpet trends for the future. What are the carpet trends that will last well beyond 2018? What will you be proud to still be standing on in a decade's time?
Bold Tones
The day of the pastel carpet is long gone. May it serve as a warning to those who follow. Today, if you want a green carpet, be brave. Go with a deep forest green. If you want a blue one, make it look like the ocean. A red one? Think your favorite merlot or cabernet.
The day of the beige and gray carpets, however, is not over. Neutral colors will always be in vogue because it's easy to blend furniture and décor with them. If the floor is neutral, then your other choices will stand out all the more. That's not a bad choice at all, especially if you love to upgrade your looks or are thinking of selling in the near future.
Bottom line: if you want to add color, though, then really go for it. Statement carpet can define and shape a room. Carpet doesn't have to be background anymore. It can be the foundation on which the atmosphere of a room is built.
How to Use Colorful Carpet
Deeper and darker colored carpet trends also mean that dirt and mud won't show as readily. This means that you can get away with putting vacuuming off until tomorrow. You don't need to watch your carpet like a hawk. But keep in mind that this is a double-edged sword: be sure that it doesn't trick you into thinking you never have to vacuum!
Bold colors can do a lot to separate rooms. Use deeper colors in rooms that are open, get sun, or have good lighting. Darker carpeting in a closed room without enough windows can make the space feel condensed and closed in, so lean for brighter shades here. Consult your South Florida flooring subcontractor if you need a greater sense of how this works.
Frieze Carpet
Frieze carpet is like a shag carpet that grew up, learned self-control, and developed good grooming habits. Its threads are crimped and cut much shorter. This gives it a refined air. Frieze carpet flooring offers a nice blend of texture and padding underfoot. It's best for entryways, living rooms, or bedrooms (if you enjoy its feel).
Frieze carpet feels great underfoot. You won't want to cover the whole home with it, but it can set a room apart nicely while making it a comfortable and refined space. You'll find it holds its texture very well over time, perhaps better than any other kind of carpet flooring.
For a household with allergy sufferers, be sure to ask for allergen-resistant versions. Allergen-resistant carpet construction has come a very long way, so you can breathe easy.
Pattern Carpet
Patterned carpet is becoming extremely popular. Geometrical patterns feel modern, while traditional Persian and Eastern designs you might see on a rug can be adapted to carpet flooring.
Even for carpet with a steady color, we see a greater demand for texturing and subtle, repeating patterns. Patterns can do two things:
They make space feel more comfortable.

Our eyes (and brains) are reassured by patterns because we can predict how they'll repeat. This can give us an increased perception of control over a space that makes us feel safer.
They keep us interested.

Patterns are engaging and spark our creativity. Even the act of subconsciously predicting how the pattern will repeat (and then having it confirmed) engages us creatively and artistically.
Patterns engage our brains in both a stimulating and comforting way. A good pattern can give a room that extra push that suddenly makes it feel special in our minds. Don't make the pattern too busy or people start to get visually overwhelmed by it.
Follow a simple rule when choosing patterns: The more complex the pattern, the more predictable it should be. The simpler a pattern, the more unpredictable you can make it. One of the best aspects of patterns is that you can always order a bespoke design for your carpet as well, whether it's something you design or we help bring to life for you.
Carpet Tiles
We like broad patterns, too. Carpet tiles might be the most modern way of assembling carpet flooring. You can mix and match the colors of a space and even change them out with ease. You can use different color combinations for different seasons. Because each tile is large, you can opt for irregular, non-repeating patterns that make a space feel interesting.
This makes it a great choice for a child's room, even an older child. The cleverness of carpet tile is that it doesn't try to brush over the fact that it's artificial. It leans on this as a strength. Its hallmark is that you've arranged the pattern very consciously. This makes carpet tile feel authentic and personal in a very modern way.
Whichever way you go, be aware that carpet construction has advanced incredibly over the last few decades and even the last few years. Many of the weaknesses of carpet have been resolved, including repelling allergens and bacteria. This makes it a cleaner choice that's easier to maintain than carpet flooring of the past.
Have questions about the best carpet options for your space? We're here to help.