Guide to Healthcare Flooring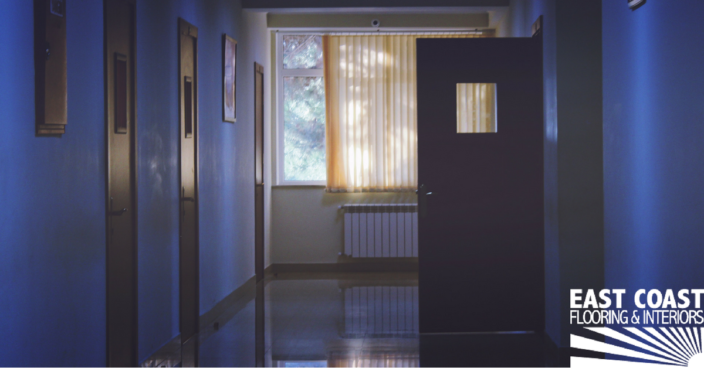 A hospital must have flooring suited to sterile, specialized areas and to those that receive heavy foot traffic. This gives you two different yet equally important priorities for healthcare flooring installation.
Sterile Flooring
Sheet vinyl is the best option for sterile environments. It creates fewer seams, making spills and contaminants easier to clean up. By heat welding the seams, flooring subcontractors create a seal between the sheets. We choose this for healthcare flooring over chemical bonding, which uses an adhesive instead.
We also recommend flash coving, which extends the sheet vinyl up the wall as a baseboard. This helps keep contaminants from getting underneath the floor or wall. By keeping the material consistent through the baseboard and heat welding the seams, you have a fairly impervious healthcare flooring solution.
Non-sterile Flooring
For non-sterile areas such as hospital lobbies and medical offices, you have a wider range of options. These areas should still make cleaning easy and be resistant to collecting contaminants, bacteria and allergens. As premier Florida flooring subcontractors, we've seen enough to say these choices always seem to work:
Luxury vinyl plank can emulate a comforting wood look. It's good for helping patients relax a little bit more in waiting rooms and family-oriented spaces. It can help make an area feel welcoming and works well with lighting that provides an even, glowing look. It's great for areas that receive a good amount of natural light.
Luxury vinyl tile lends an office a somewhat more professional and sterile look without feeling entirely cold. It suits exam rooms that may rely on more artificial light. Lighter colors make a room feel more open. This can help patients who have anxiety or stress. It's good for making an exam room feel less restrictive.
They're both gentle underfoot, and luxury vinyl tile won't feel cold like real tile would. Perhaps most importantly, they're easy to maintain and you can replace sections easily if they become damaged.
If you need help selecting and installing your flooring, contact the experts at East Coast Flooring and Interiors.
Tags: healthcare flooring