The Right Flooring for Your Industry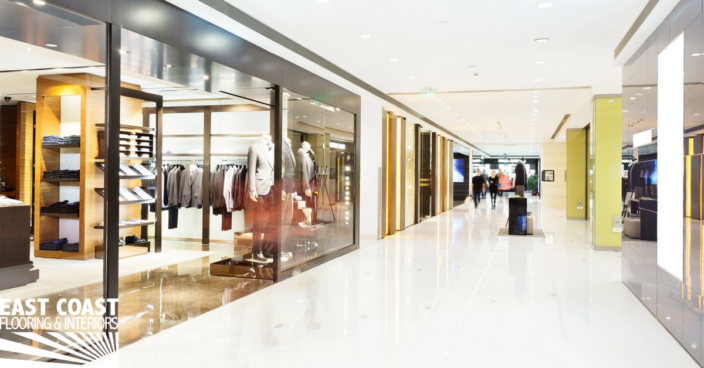 Commercial flooring installations can be done swiftly and cleanly. Best of all, it can make your business look like you've always envisioned — but there are a lot of choices out there. Which is the best solution for your brand and your industry?
The wrong flooring choice can end up torpedoing your business years down the road – as you need to close down and replace damaged flooring. You need to avoid this by choosing flooring that's practical, durable, and that visually conveys a message about your business. Flooring is one of the most important elements we see when walking in the door. How can you balance all those different factors and make the best choice?
The Hospitality Industry
Carpeting is still the best option for high-end resorts. It feels soft underfoot, it reduces noise, it insulates, you can pattern it uniquely like no other type of flooring, and it's more vibrant than any other option. That makes carpeting perfect for a lot of places.
At the same time, the hospitality industry is somewhat over-reliant on carpeting as a solution. We're South Florida flooring subcontractors, and we've both designed and installed a lot of high-end carpeting in resorts and hotels. Please understand that thinking twice about carpeting isn't the easiest thing for us to say!
Many hotels, recreation, and tourism destinations decide on carpeting because of cost, and that's not always the best option on the table. It's worth it to explore other options, like luxury vinyl. Yes, it is more expensive, but the trade-off is worth it in terms of durability. Luxury vinyl lasts to up to 20 years of use in a high traffic area. Carpeting under the same conditions generally lasts about six. At worst, luxury vinyl will give you twice the lifespan of most carpet.
While carpet can be an exceptional option, solutions like luxury vinyl will save you on maintenance and replacement over the long run.
We'd also recommend that certain businesses look into concrete. Stained and acid-etched concrete are perfect for eating areas and concrete can emulate a number of other surfaces. Once properly sealed, it's incredibly durable and it's one of the easiest surfaces to clean. Look into concrete for food and beverage solutions, and for areas that will get a lot of exposure to sand and grit being tracked in.
Healthcare Facilities
Hospitals and clinics need flooring that will are allergen- and bacteria-resistant. It also needs to be easy to clean and maintain. The aesthetic challenge with any kind of healthcare flooring is that you want something that's both visually appealing and sterile. You also have to put visual concerns behind practical application. It needs to be all these things while also being resilient to high use.
Luxury vinyl, heterogeneous sheet vinyl, and linoleum are all good solutions. Rubber should be considered but you will be able to smell it – there's a reason most hospitals use it but only in limited applications.
One place where rubber does excel is for assisted living centers. Because residents are here long-term, they need to be able to move around from room to room. This means a greater exposure to falls than most hospital environments. Rubber flooring is one of the best solutions to minimize the impacts of falls and stumbles. Because it has grip, it can even help prevent them. It's easy to clean and combines the soft, giving nature of something like cork with far greater resilience and durability.
Offices
Office flooring runs the gamut. As South Florida flooring subcontractors, we've seen just about every flooring solution there is in professional workspaces. You can go for concrete flooring, natural stone, hardwood, carpeting, luxury vinyl, laminate, tile…  the list goes on.
We realize this doesn't help you narrow things down very much! With offices, it can vary so much because different organizations want to communicate completely different messages to employees, customers, and clients alike. That said, here are a few of our favorites.
You can't go wrong with tile and hardwood, but you can make things a lot easier on yourself by choosing vinyl sheets that have a tile or hardwood look. Luxury vinyl is easier to apply and maintain. It lacks the durability of its alternates, but it makes up for this on both initial and maintenance expenses.
Concrete is also a good option, and hollow core slabs are suitable for multi-story buildings. They're much lighter than you expect without giving up that crucial durability.
Carpeting is still a good option for some offices, although the more employees you have, the more we'd recommend modern carpeting with hypo-allergenic design and material.
The Fitness Industry
Many hotels have gym facilities, assisted living centers sometimes include basic equipment to help residents develop physical capabilities, and it's a growing trend for offices to have fitness facilities so employees can energize or spend part of their lunch staying healthy. At the same time, standalone gyms are as popular as ever.
Rubber is still the best bet for the fitness industry in all its forms. It is low impact and easy to maintain. When weights are dropped or something's spilled, it won't get dented and it's easy to clean all the blood, sweat, and tears up.
Linoleum and luxury vinyl are good backup choices, but we'd still recommend rubber over all other contenders. Alternately, some gyms opt for concrete flooring with rubber flooring connected over it, but this is neither as safe nor as easy to maintain as simply installing rubber flooring.
Practical and aesthetic concerns differ based on your industry and your unique brand. If you've having difficulty choosing from all the terrific options, give us a call. We'll help you select the right option for your commercial flooring installation.