How to Maintain Hospital Vinyl Flooring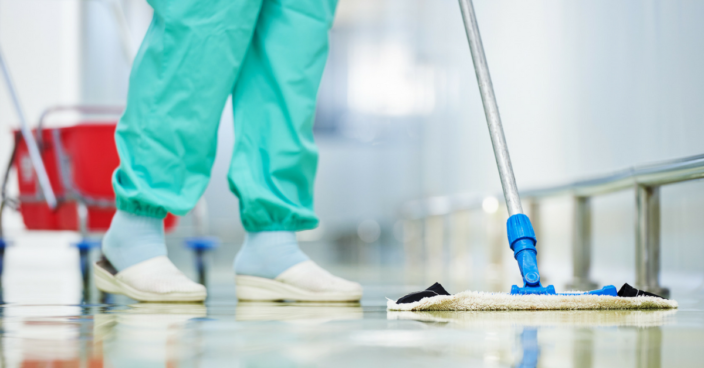 Hospital flooring installation can't be allowed to accrue damage that shortens its lifespan or affects its integrity. There are ways to maintain a vinyl flooring to ensure it lasts as long as possible — and stays as safe as possible to extend its lifespan considerably. A few tips:
Vinyl floors need a finish to avoid scuffing

.

Acrylic finishes are more modern and easier to apply than old-school wax finishes. They only need a mop and bucket rather than a solid application and a buffer. This helps your custodial staff save time, and it helps increase the lifespan of the floor. In fact, using a high-speed buffer on an acrylic finish delaminates the finish. We recommend not using a high speed buffer.
A finish repels many scratches and scuff marks, but not all. Applying finish again will hide most scratches and minor damage, as well as protecting the vinyl floor from any further damage. If blemishes are still visible, use a spot repair kit.
Tennis anyone? Sometimes, marks can be rubbed away with a tennis ball. To save wear and tear on your staff's arms, backs, and knees, you can put the tennis ball on the end of a stick. Sometimes, the old-school ways still work best.
For gouges or other impact damage, you may need to replace the full plank. Fortunately, this is easy with vinyl flooring. Make sure your staff is trained in the proper methods and processes. If not, they can be taught quickly when you call in a

commercial flooring subcontractor

.
If you need new vinyl flooring installed, choose a commercial flooring subcontractor that has worked in many active patient and resident environments. Whether doing a hospital flooring installation all at once or section by section in an actively used environment, we can ensure maximum results with minimal disruption.