A Guide to Hospital Flooring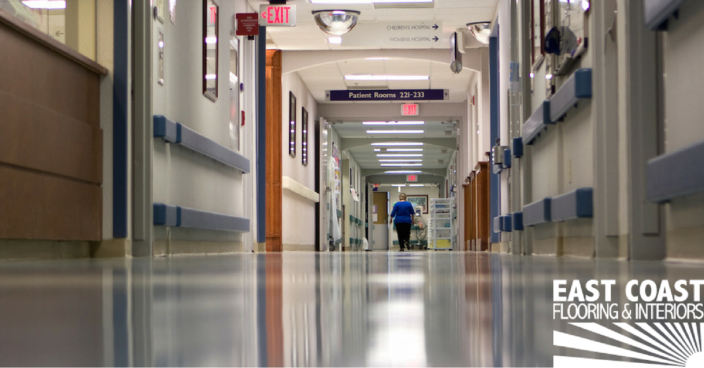 When it comes to hospitals, commercial flooring installation is a matter of health and safety. Because the stakes are high, a hospital flooring contractor needs experience with the needs of medical facilities.
Sterile environments are key and require knowledge of a number of needs. Floors like this cannot have many seams. Seams interfere with medical equipment, beds, and carts that need to be wheeled around, but they're also a hygienic danger.
Rooms that need to be sterile need sheet vinyl. When installed properly – and this is why experience as a hospital flooring contractor is key – the seams help create an environment that's sterile. Heat welding the sheet vinyl ensures that spills don't contaminate the seams. In heat welding, a rubber strip is melted between two sheets.
Chemical bonding is also an option, but relies on using liquid adhesive. Heat bonding is far more preferable. Keep in mind that when we're talking about sterile environments and hygiene, the floor cannot have any imperfections that allow spills or fluids to become trapped. This can breed bacteria, mold, and other agents that affect health.
In addition, flash coving extends the sheet vinyl up the wall, as a form of baseboard. This means that there isn't any space at the edge to worry about spills getting into.
For non-sterile environments (e.g. administrative offices), we often use luxury vinyl plank. It can be made to look like wood, but it is easy to clean and doesn't possess wood's tremendously high rate of imperfections – nooks and crannies where bacteria can become trapped.
Luxury vinyl can be made to emulate a range of other commercial flooring installations, such as tile. One of the biggest advantages of luxury vinyl is that it can make an area look bright and open while at the same time being very easy to clean and maintain. Remember, rely on someone with knowledge and experience as a hospital flooring contractor – you can avoid some of the easiest-to-make mistakes and cost overruns this way.
Tags: commercial flooring installation, Hospital flooring contractor