Commercial Flooring Installation Process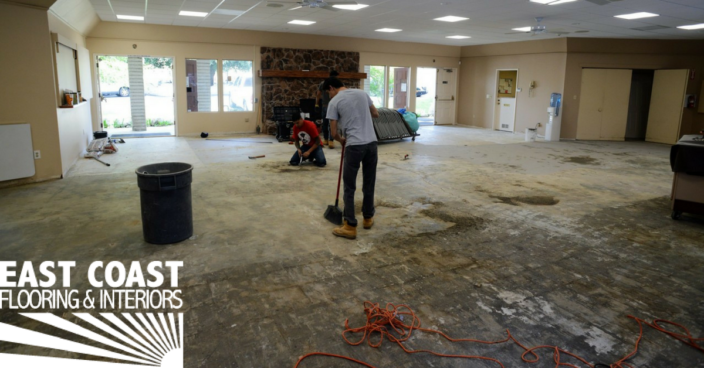 The commercial flooring installation process can seem intimidating at first. As South Florida commercial flooring contractors, we've seen both builders and business owners get paralyzed by the sheer number of choices. But success is like chess: expert players don't see more moves, they see fewer. That's the key – clearly identifying your needs enables you to whittle the choices down to a more manageable number.
Remember, the primary goal of a flooring choice is to appeal to customers/residents/visitors. Think of flooring as one facet of your brand that people will use to make their own assessment of your company. Is your brand professional? Stick with more neutral tones. Is your brand fun and bright? You can spice things up by making elements of your floor unexpected.
Next, consider the building itself. Many buildings have already been designed to cater to specific types of flooring. How can you match the flooring to the building? A converted warehouse space will do well with flooring made from very modern materials. A corporate office building will do well with blends of carpet and stone that complement each other.
Something that many overlook is the noise that walking makes. Wood floors are both unexpected and comfortable, making them ideal for a range of commercial purposes…but in an office building where people will be wearing dress and heeled shoes, the reverberations get very noisy, very quickly. Cork or carpet are good alternatives
Also consider durability. If choosing between two carpets that are equal in other ways, choose the one that will last longer and is built more resiliently. Tile, wood, and stone will all last a long time. Carpet can go either way depending on make, but high-wear options occupy a middle ground if taken care of for a long time.
Materials like vinyl can be adapted to a range of flooring solutions, but aren't very durable. The commercial flooring installation process can be easy, even fun, if you feel in control of it. As top South Florida commercial flooring contractors, we focus on giving you the best choices that accomplish the look and feel you want.