Best Types of Flooring for Beach Houses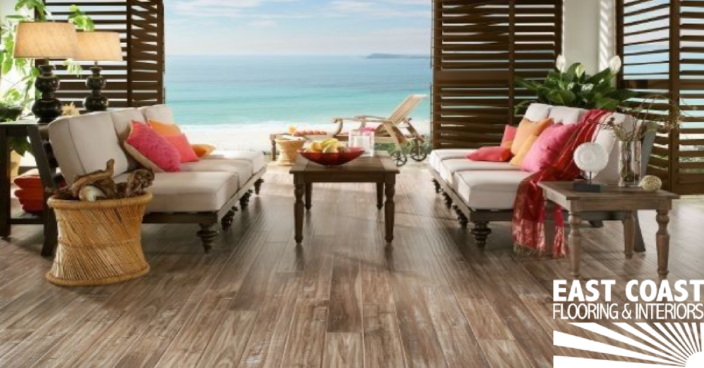 Flooring in a beach house has a few requirements that make it different from another type of home. It needs to stand up to the wear of sand and grit being tracked in, and it needs to be highly resistant to water and humidity. This makes tile flooring installation the idea choice for your fun-in-the-sun getaway.
Mosaic tile can bring out the light a beach house gets. But to keep the house from getting visually overwhelming, you might want to keep patterns to only a few of the smaller spaces such as bedrooms and bathrooms.
As residential flooring contractors, we like porcelain tile flooring. It is inexpensive, but it reflects light beautifully. This can make a house glimmer and feel remarkably warm and accessible. Even at night, this surface can make a space feel bright. The way it opens a space up makes large porcelain tiles perfect for open living rooms.
Stone tile, on the other hand, can really make a place feel solid and textured. Its advantage over porcelain is that it makes a beach house feel more cozy. It's a good choice for both small and large spaces. It also avoids the echo porcelain has. Stone tends to absorb more of the sound than porcelain does. Natural shaped stone tiles, called pavers, invoke a bit of the natural world inside.
Hardwood and concrete are other good choices. Hardwood is durable and lasts longer than almost any other type of floor. You'll just have to be sure water doesn't accumulate anywhere. The one potential weakness hardwood has is warping due to standing water. For this reason, hardwood floors are best for beach houses that have a mudroom or covered porch where you can leave anything wet to dry.
Concrete floors have come a long way. Once the domain of warehouses, they know come in beautiful and stylish variations. The texture is still concrete, though, so plan for some area rugs and draped fabrics. Concrete is durable and won't be scratched by sand or worn by water. It's best in spaces that will get a lot of light.
There are plenty of options; skilled residential flooring contractors will help you make the right choice for your beach house.