Choose the Right Commercial Flooring Installation for Reflectivity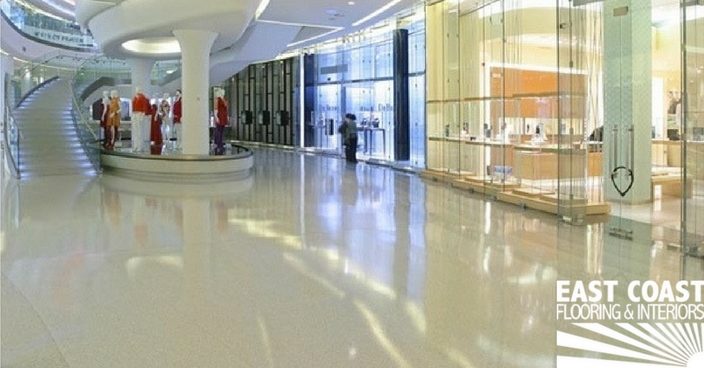 When deciding on your commercial flooring installation, you often have an idea in mind. You know what you want your space to look like, but the pictures in our head or on paper don't always take into account every real-world element. For example, have you considered reflectivity?
Depending on the amount of sun a space gets and how much lighting you have, you may want to increase reflectivity to make a space feel brighter and more energetic. Well-implemented reflection can also help you cut lighting costs.
As the primary surface that will reflect light around many spaces, you have to plan a floor accordingly.
Carpet isn't very reflective unless you choose very light colors. That said, the lighter the color, the more you'll have to maintain it – dirt, dust, and stains of any kind will be easily visible.
Concrete is the most durable choice. Diamond polished floors with high-density finishes are tremendously reflective. You'll want to make sure they're well maintained. Be aware that they'll get slippery when it's raining and people track in water and on the rare cold day, they won't do much to help insulate.
Vinyl tile is a good choice that's easy to maintain and has a comfortable give underfoot. Light-colored vinyl is also highly reflective.
Wood is durable and strong. With a good gloss, it can repel damage and reflect light well. Without the gloss pre-finish, it won't reflect nearly as well.
If you need to cut down on glare in particular areas, you can lean darker in wide open spaces that get a lot of sun. This can help set the space apart as something unique. Just remember that certain surfaces – like wood – may get sun-bleached over time. Buying a few extra planks and keeping them in storage is always a good idea, especially in sunny areas.
Avoid using darker colors in an enclosed space, even if it gets a lot of sun already. They can evoke a bit of claustrophobia and that can make both workers and customers feel less comfortable spending time in these spaces. Keep enclosed spaces lighter. Consult a South Florida flooring contractor on the best balance of material, reflectivity, durability, and maintenance, and your commercial flooring installation will be good to go.