Best Commercial Flooring for Retail Stores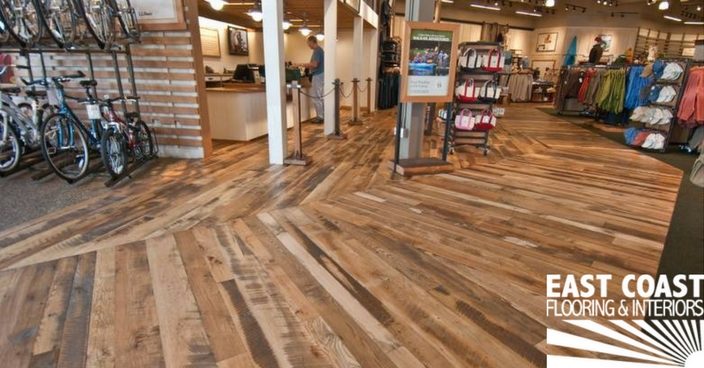 When working with a commercial flooring subcontractor to select flooring material and a design for your business, there are two major factors to keep in mind. The first is obvious: aesthetic. How do you make sure the floor welcomes customers? How do you want them to feel in the space?
The second is a little less obvious, and it's more practical. It's durability. You don't want flooring that will show its wear after just a few months.
AESTHETIC
What colors, patterns, and materials will help customers relax? What will prompt them to spend more time in your business? Materials that evoke home can help here – storefronts with hardwood floors, for example, feel cozy.
Brighter tones increase the light level. Darker tones can make a space feel dingier and more confined. Ceramic tiles do a great job of magnifying fluorescent light and making it seem more natural.
DURABILITY
Does your retail business see a number of customers and a great deal of traffic?. Your commercial flooring subcontractor should be upfront with you about the maintenance requirements of the floor you're considering. Proper maintenance will help keep the floor, and the entire space, looking fresh and inviting.
SOLUTIONS
Concrete is the most basic and can still work for some storefronts that are making a statement. It evokes utilitarianism and makes for a brave contrast with higher-end products. It'll keep the area cool and easy to clean, it's inexpensive, and it won't wear.
An epoxy or terrazzo holds up under traffic. The surfaces balance intriguing aesthetics against a durable nature. Tile is similarly easy to maintain, while being durable. It allows more control over pattern, color, and look. Marble is among the most expensive, but your customers will be impressed and feel as if they're getting the best.
A good and inexpensive middle ground is vinyl flooring, which is remarkably easy to maintain and clean. Finally, engineered woods and carpeting evoke the most home-like feel for your business. Carpeting can be risky depending on foot traffic, but there are new technologies that make it more resilient than ever before.
When when you need flooring installation in South Florida, we are happy to walk you through your options and help you select the best surfaces for your business.
Tags: Commercial Flooring subcontractor, flooring installation in South Florida