2016 Commercial Flooring Trends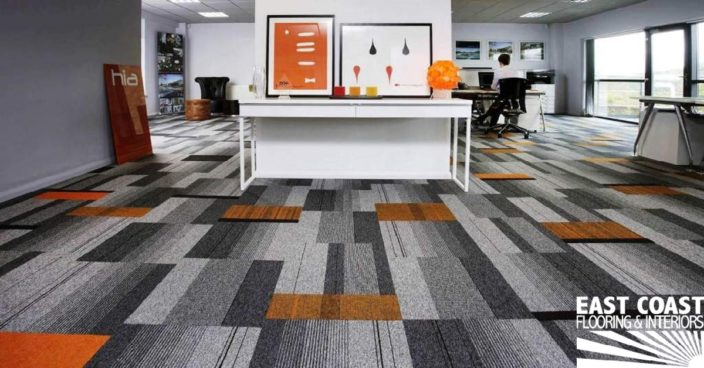 Innovations in commercial flooring design help modern business spaces make a bold statement. Here is a look at a few of the exciting trends that are shaking up the flooring industry.
Color-Rich Carpets
Carpet colors have changed a great deal. While neutrals are still popular, they've shifted away from beige and toward sophisticated greys and metallics. Trending even more are deep, saturated colors. Neutral carpets are designed so the furniture stands out. Saturated colors work best with more neutral-colored, utilitarian furniture, allowing the floor to be the focal point.
Luxurious Vinyl
Luxury vinyl continues to see wide use. Vinyl is an excellent choice in humid climates since it repels moisture and remains soft underfoot, all while remaining affordable. And it looks great. Many producers are developing sheets and planks that emulate stone and mineral looks, wood looks, and even contain unique paintings and art pieces.
Today's commercial flooring design favors the wood look. It's of particular interest to businesses that want to convey a more comfortable, relaxed, home-like feeling while retaining the easy-to-maintain qualities that vinyl provides.
Breathe Easy Floors
Floors with hypoallergenic, allergen-reducing, and bacteria-repelling properties are popular. Hypoallergenic flooring such as fiberglass is becoming increasingly favored. Wood flooring uses antibacterial layers, while carpet can now be made of material that rejects bacteria collection. The goal is to make healthier choices available for families, individuals, and businesses.
Sophisticated Shapes
Geometric shapes are hot. The more obvious edges and distinctive grain patterns are eye-catching. More businesses want flooring that stands out rather than recedes into the background. This is a major shift away from commercial flooring design even two decades ago, when floors were designed not to be noticed. Today, people want their floors to stop passersby.
As a flooring subcontractor in South Florida, we can design and advise on any commercial floor. We'll be happy to share all the new trends that will help you meet your style, practical, and budget needs.
Tags: commercial flooring design, flooring subcontractor in south Florida