Summer 2016 Flooring Trends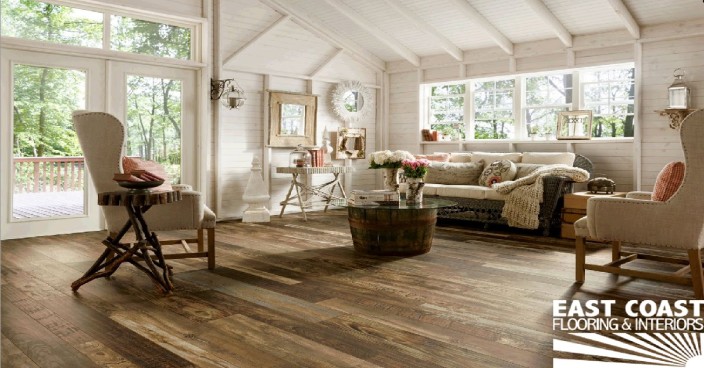 What are the hottest trends in flooring installations today? Let's see!
Bold and Beautiful. Have you ever wanted a pink or turquoise floor? Now's your chance. The use of colored stains has increased exponentially recently. This allows bright, standout residential flooring.
Say "No" to Monotony. It's important to make sure that a floor stained in this way isn't just one flat color. Texture is crucial in making a space pop. For instance, a deep blue floor would include some darker planks, some bluer, and some wood-hued with a blue tint.
This keeps the floor from becoming overbearingly monotone, and it helps guide the eye across a space instead of losing it in flat color. Walls should be kept neutral colors and furniture should either complement or be neutral as well. Here, the floor becomes the star of the decor, instead of a supporting actor.
Luxe Love. Luxury vinyl is enjoying a strong run in residential flooring. It can emulate wood well. It is also softer and much easier to maintain, especially in areas that are exposed to water. This makes it a strong pick for mud rooms, kitchens, and bathroom and for South Florida homes and businesses.
Sustainable Style. Sustainable floors such as reclaimed hardwood, fiberglass flooring installation, or engineered bamboo residential flooring are also becoming popular. These are all extremely durable alternatives to hardwood. Reclaimed hardwood is recombined from other woods. Its durability is measured in decades and it resists heat and humidity better.
Fiberglass is nearly as strong as hardwood, but is just as soft as vinyl. It's also hypoallergenic (another major flooring trend) and resistant to mold and bacteria. Engineered bamboo is grown sustainably on U.S. farms rather than harvested from endangered forests. Bamboo is dense and strong and offers a very different look from normal wood floors.
For any of your flooring installation needs, talk to East Coast Flooring about the newest trends. With so many new materials out there, and more colors, patterns, and finishes than ever,you can easily find a floor you'll fall in love with.