6 Hardwood Flooring Benefits
Are you looking to add unmatched style to your home or business?  Have you considered hardwood flooring?  Hardwood flooring is a popular choice for residential settings and could provide your business with a classic, finished look.  Whether you decide on a dark, light, glossy, rustic, wide, or thin style of hardwood, this flooring offers a variety of benefits that make it a popular choice for both residential and commercial settings.
Our info-graphic below outlines the benefits of hardwood flooring: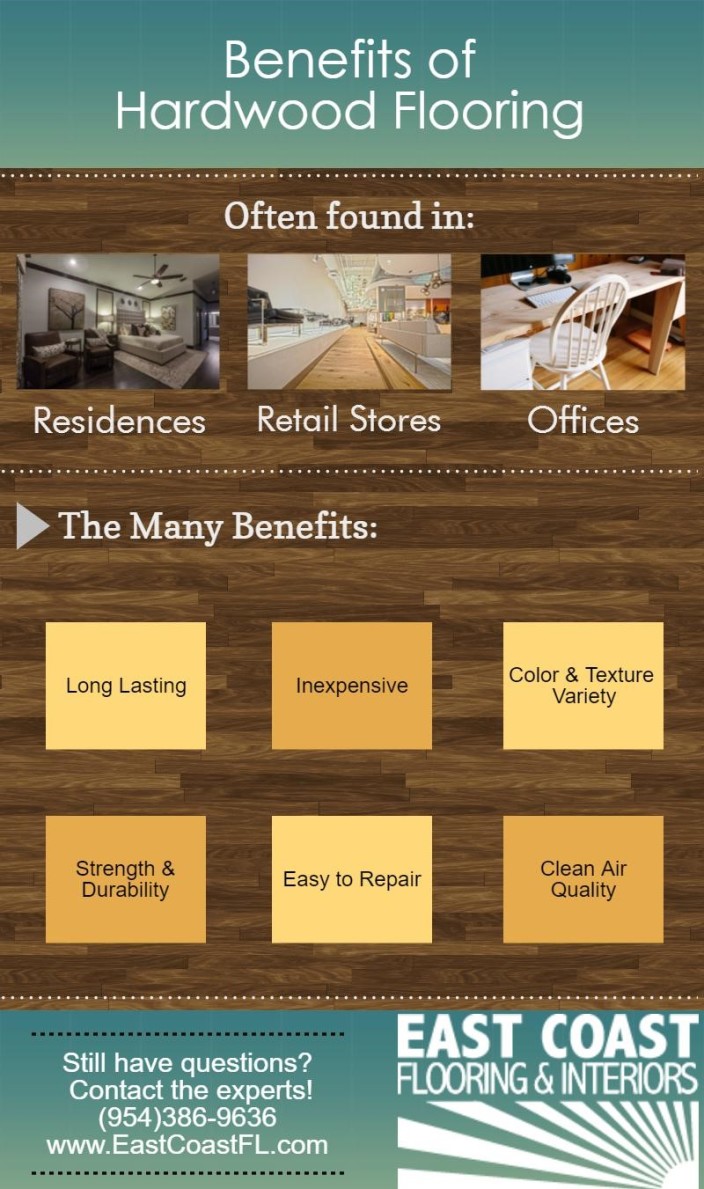 Popular types of wood include oak, ash, birch, Brazilian walnut, teak, and tigerwood.  These are popular because of the wide array of benefits below:
* Hardwood flooring can last for generations when installed and cared for properly.
* Hardwood flooring is available at all price ranges.
* Hardwood flooring comes in a variety of styles that produce the feel and tone you want for the room of your choice.
* Hardwood Flooring provides a solid surface that supports heavy foot traffic without wearing out or causing damage
* Hardwood flooring repairs can usually be done with minimal effort by simply replacing the planks that have been damaged.
* Hardwood flooring doesn't trap dust, mites, and other allergens allowing the atmosphere to not only seem clean, but to be clean.
Still not convinced on hardwood flooring?  Feel free to call the flooring professionals at East Coast Flooring & Interiors, the top flooring contractors in Ft. Lauderdale!  With hundreds of flooring installations throughout South Florida, we'd be happy to answer any questions you might have.