Protecting Hardwood Installations from Furniture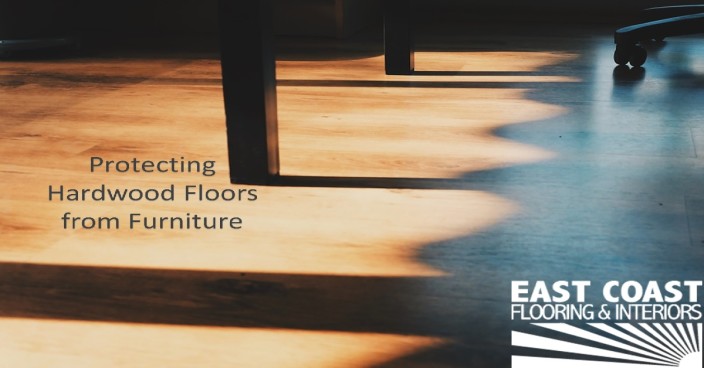 Hardwood is undoubtedly beautiful – but it can be easily scratched when you attempt to slide or drag heavy furniture across it. Fortunately, hardwood can be sanded down and refinished in the event of true damage – making it a far more durable choice than some. There are disadvantages to this. For commercial hardwood installations, it means work being done in your place of business, potentially putting it off-limits to employees and/or customers.
It is s best to avoid damage in the first place. Here are some tips how.
Use furniture pads. This is the easiest and most practical way to protect your floor. Pads come in felt or cork, and are easily hidden beneath the legs of your furniture. They cushion the weight of furniture on the floor, protecting against dents, and they can even make brief adjustments easier by helping the entire piece to slide.
Always lift heavier furniture. For anything other than a small adjustment of a light piece of furniture with pads underneath, rely on lifting and moving the piece. Dragging anything too heavy will scratch your floor, whether you have pads or not. Dragging anything – even light pieces – without pads can do the same.
Apply area rugs. Area rugs can provide a pad between furniture and floor while helping to add texture and color to the room. Non-slip padding under the rugs will help stop the rugs from taking you and your furniture on a magic carpet ride.
Re-coat your hardwood every decade (or every few years in a commercial space). It protects against scratches and dents, adding a layer of protection while also shining up your floor very attractively.
Consider laminate. While you cannot sand laminate flooring, the surface is more scratch-resistant than real hardwood. If you're concerned that frequent furniture or equipment moving is going to damage a hardwood floor, ask laminate contractors in South Florida for information on this viable option.
If you protect your hardwood floor, it will serve you well for years, if not decades. Contact us to find out how to keep you commercial hardwood installations looking their best.
Tags: commercial hardwood installations, laminate contractors in south florida