The Benefits of Natural Stone Flooring
Elegant and sophisticated, natural stone flooring installations have been a preferred choice for many home and business owners. Most commonly found in high end resorts, spas, retail stores, and homes, natural stone flooring comes in a variety of options and offers many benefits that make it a popular choice among commercial contractors.
Our info-graphic below outlines the benefits of natural stone flooring: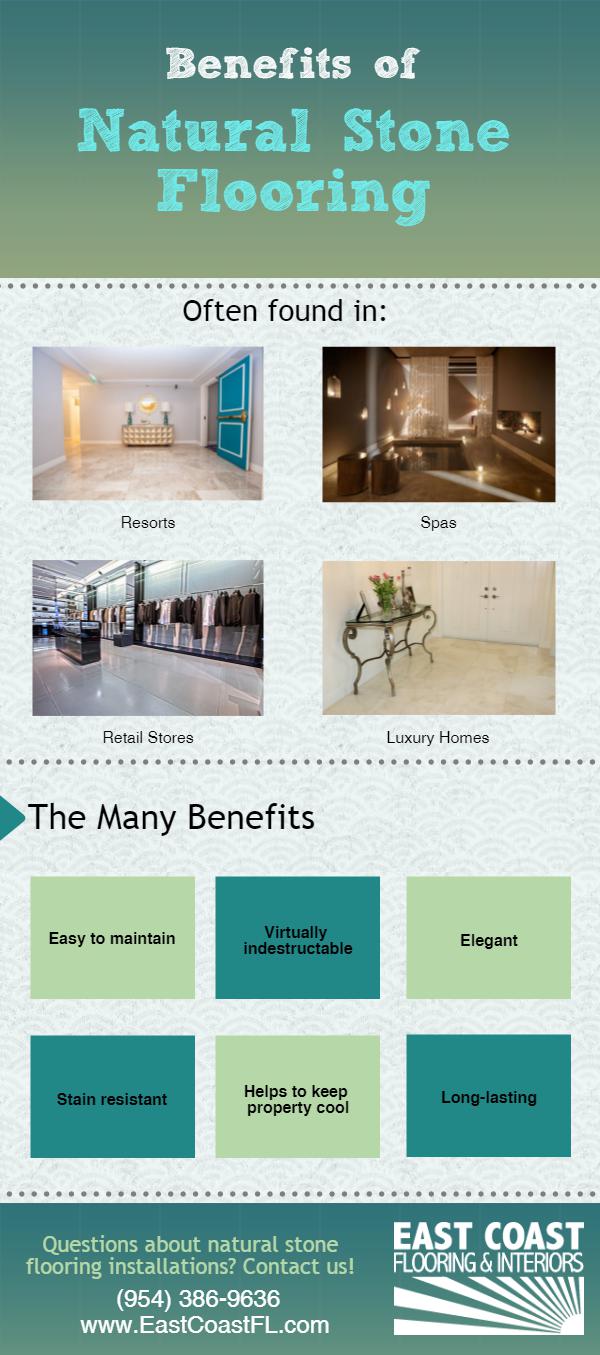 Popular natural stone floor types include marble, granite, slate, sandstone, and travertine, and they are a popular choice for commercial and residential use due to the following benefits:
Natural stone flooring is easy to maintain and can last over 100 years, if it is cared for properly.
Natural stone flooring requires minimal maintenance, and is virtually indestructible.
Natural stone flooring is environmentally friendly, as it's a natural product that is constantly being recreated by natural tectonic processes. Stone flooring can also be re-used.
Natural stone flooring helps to keep your home or commercial space cooler, making it great for South Florida's warm climate. This in turn helps to use less energy and lower electricity bills.
The elegance and beauty of natural stone flooring is eye-catching and makes a statement.
Natural stone flooring is scratch and stain resistant.
Do you have any questions about commercial flooring installations? Feel free to call East Coast Flooring & Interiors, the top flooring contractors in Ft. Lauderdale! We have installed hundreds of commercial floors across South Florida, and would be happy to help.