Wondering What Kid Friendly Flooring to Install for a Household with Kids?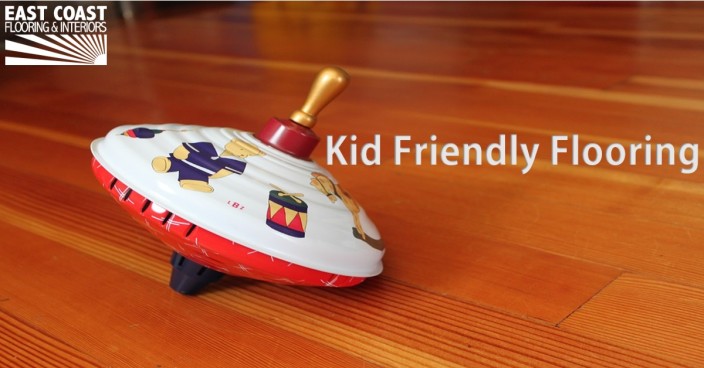 Children can be a challenge for any flooring. What do you need to protect against, and how? Deciding on the best kid friendly flooring requires anticipating some damage and a lot of different messes as your children grow up.
Solid hardwood is incredibly durable – the right kind of hardwood flooring can last more than a century. Shinier, glossier finishes might be ill-advised because they're more likely to show scratches. If you have allergy concerns, hardwood floors are hypoallergenic. They're fairly easy to clean and can reduce your energy bills somewhat.
Laminate may be one of the most attractive choices. It's scratch-resistant, durable, fade-resistant, and  one of the easier types of flooring to clean and maintain. This flooring choice can be installed over existing floors, making installation a breeze. You can cut costs, and retain the insulating qualities of a pre-existing floor.
Different places in your home will get used in different ways. For a place like a bathroom, kid friendly flooring is very difficult. Water will get splashed out of the sink and shower regularly, so be careful of hardwood. It will require active maintenance and cleaning – you don't want water sitting on hardwood for long, and repeated exposure can warp individual planks. Tile and vinyl flooring are superior choices here for their water-resistant qualities, and vinyl helps muffle sound. Both are durable, though will be a bit colder to bare feet than hardwood.
Each flooring choice has pros and cons when it comes to homes with children. The best thing to do is speak to your floor installers about your particular needs. Each home directs traffic differently, uses its spaces differently, and has different needs. As floor installers, East Coast Flooring can help you make the best choice.