The Best Types of Carpet Flooring & Other Flooring for Temperature Insulation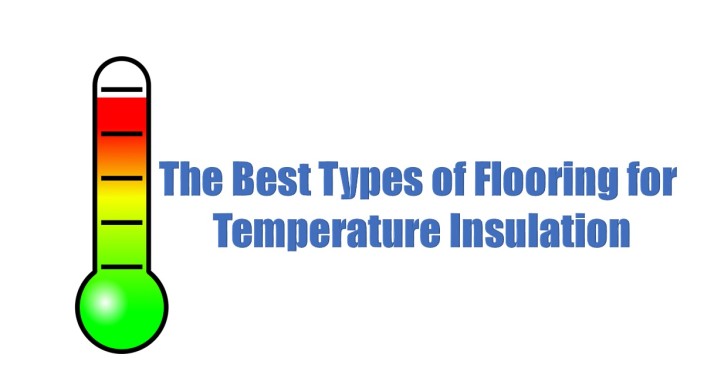 The type of flooring you choose depends on a number of conditions that are particular to you and your living situation (or for businesses, the nature of your business). Solid hardwood floors are generally considered the best type of flooring, and for good reason. They're durable and, with proper upkeep, they can last more than a century. They're easy to clean, and they add value to a home. But should they be the first choice if insulation is your primary goal in a new floor?
Let's consider great flooring options, ranging from those best in warm environments and those best-suited for colder climes.
COLD: TILE FLOORING
When we think of insulation, we assume that the insulating material keeps the cold out and the warmth in. Stone, ceramic, and porcelain doesn't work like that. Instead, tiles do the opposite: keeping the cold in and the warmth out. This can be useful in a location like Florida, where the temperature typically trends higher. But why is this? Why does tile always feel so cold to your bare feet?
Tile is an amazing temperature conductor. If you put your foot on carpet flooring, it can't remove heat very quickly. Compare that to metal, which is an excellent conductor – that's why metal is often colder to the touch than the surrounding air might be. Tile is much closer to metal than to carpet when it comes to conducting temperature. When your foot hits tile, it draws heat away.
Considering their waterproof nature, low maintenance, and easy repair, tile can be a good choice if you want to cool off your home while also protecting your floor from moisture. Perfect for hot, humid Florida and other such environments. When it's cold, though, you'll be cranking the heat higher than you would with another floor.
COLD: SHEET VINYL FLOORING
Like tile, vinyl and sheet vinyl provide negligible insulation. It's a thin flooring, chosen more for its water resistance, shock absorption, durability, and affordability. This gives it many advantages – among which is keeping your home cooler.
WARM: LAMINATE FLOORING
Laminate is scratch-resistant, durable, affordable, and easy to maintain. It's a solid choice and has insulating properties that tile and vinyl lack. That being said, it doesn't perform as well as thicker engineered hardwood flooring or carpet when it comes to protecting your home from the cold. It's a good choice; but not necessarily a great one. There are even better options available.
WARM: ENGINEERED HARDWOOD FLOORING
Engineered hardwood flooring can float above a floor base. This means it can expand and contract as a single unit, allowing it some flexibility when it comes to humidity and moisture. If one plank expands, it pushes the next plank, which pushes the next plank, and so on, until a little bit of room left under the wall (and hidden by molding) allows the floor to expand when needed. Contrast that to hardwood flooring, where each individual plank pushes against the next and can potentially create warps and buckles.
That means engineered hardwood flooring responds well to humidity, but what about temperature? It doesn't insulate as well as some other types of flooring, and its floating nature means that cold spaces can build between the floating floor and its base. Thicker floors will, of course, provide better insulation. However, that space in between can be used to install radiant heat.
There's nothing quite like waking up on a cold day and feeling the floor warm underneath your bare feet. It's not technically insulation and, while efficient, radiant heat will still add to your energy bill rather than helping you save on it. If you're looking for warmth over energy savings, however, engineered hardwood flooring with radiant heat really is your best bet.
WARM: HARDWOOD FLOORING
Hardwood is a better insulator than you might think. Remember when making your choice that different types of wood will insulate differently. Oak, maple, and ash will insulate better than thinner engineered hardwood flooring, but if you're looking for the best insulators, consider fir and pine.
Notice that the types of wood break down by where the trees grow. Nature is the most elegant designer. Trees that grow in warmer weather and have less need to protect themselves in the cold have good insulating properties. Yet if you're looking for the best insulating wood, it's the trees that have to sustain long, frigid winters whose wood will offer the best insulation. These hardier trees offer both beautiful, unique, durable design and superior insulating qualities.
DOWNRIGHT COZY: CARPET FLOORING
Living in Florida offers some unique challenges toward insulation. We deal with more heat than cold, but it's not unheard of to drop below freezing temperatures, and a good part of the year stays below the 60- and 70-degree temperatures we find most comfortable.
The best choice for insulation is carpet flooring. It seems obvious because we already know it feels warmest against our feet. How a floor feels is always going to be your top concern, and carpet flooring keeps your feet warm. It doesn't conduct heat easily, which means it forms a temperature barrier. That insulating property far exceeds every other type of flooring, and does the most to save on heating costs. Carpet flooring is also the most flexible, able to adapt well to uneven sub floors and walls.
There you have it: every type of flooring, ranked by its increasing ability to insulate against the cold. Consider what looks good and what lasts longest and balance these against what insulates best. Maybe that insulation trumps other considerations, in which case the clear winner is carpet flooring. Maybe you want to balance good insulation against protection from humidity, in which case you might opt for engineered hardwood flooring. When you're making your decision, talk to East Coast Flooring about your needs. We can help you narrow down your choices to the best that balance all your priorities, including affordability.