Restaurant Flooring Services Trending in 2016
When it comes to restaurants, image and ambiance is everything. While floor installation may seem like a minor detail, your choice can help you create a seamless look and entice customers to have another round, make another reservation, or book their next event at your location. Flooring matters, and you need a flawless finish.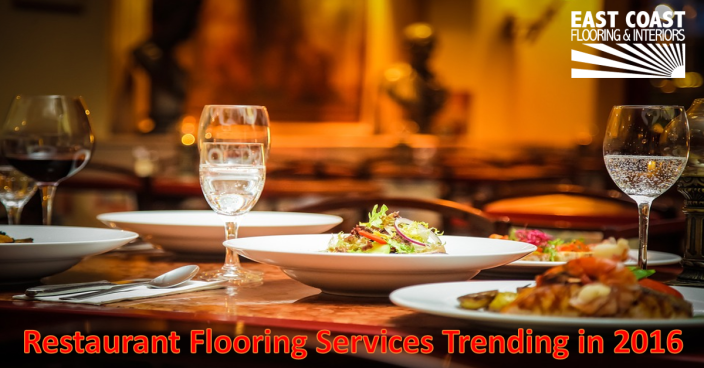 Key Trends in Restaurant Flooring Services
In 2016, carpet is still a viable – and often beautiful – choice for restaurants. Broadloom carpet varieties effortlessly cover big spaces and, depending on the material, they can be quite easy to clean and maintain. However, other flooring materials are making waves. Here's a look at three top trends.
Hardwood floor installation manages to make your restaurant look both trendy and timeless. Wood has an innate warmth and aesthetic appeal that complements a variety of decors. Choose real hardwood species for high traffic areas or opt for engineered or laminate at a lower price point.
Tile is versatile and easy to clean. It comes in a variety of interesting colors and can add great textural and visual depth to your space. Ceramic tile is durable and unlikely to chip or crack – important with repeated scrapes from chairs and tables. Porcelain is easy to clean, waterproof, and sanitary.
Yes, vinyl! It's come a long way and is perfectly at home in high-end eateries, chic bistros, and cozy cafes. Available in a variety of glosses and styles, you can easily find flooring that works for your aesthetic, needs, and budget. In general, the thicker the tile, the better it holds up. You can recreate the look of wood and stone for less.
There are endless options, from polished concrete to budget-friendly laminate. A contractor who specializes in restaurant flooring services can help you make the best decision for your business.