Hardwood Floor Installation: Are You Ready for Spring?
When home buyers tour properties, they may have a list of "must-haves." Must have a yard, a big kitchen, triple-glazed windows, updated appliances… But it's often one feature that makes them fall in love – and make an offer. For many, it is the timeless allure and classic beauty of hardwood floor installation. These surfaces evoke a sense of warmth, elegance, and versatility that is hard to beat. If you are fortunate enough to have these assets under feet, make the most of them. Spring is prime selling season, and you need to be ready!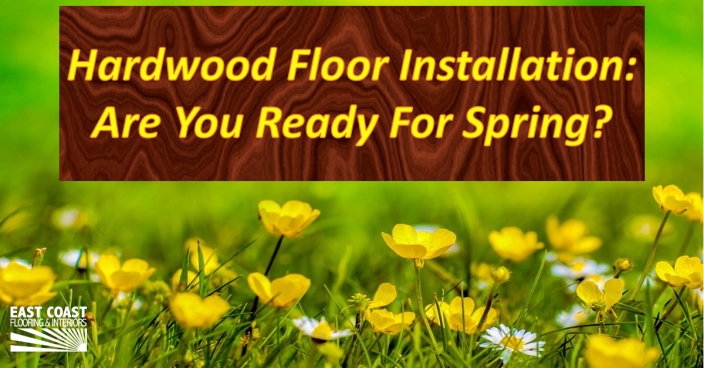 Revitalize Your Floors – Revitalize Your Entire Home
A USA Today survey of home buyer preferences found that more than half (54 percent) of buyers are willing to pay more for homes with wood flooring. Focusing some effort here can help you get your asking price (or maybe more). Here are some top tips for making the most of these surfaces from flooring contractors:
1. If you do not have them, consider hardwood floor installation.
While admittedly pricier than adding carpet, installing hardwood, as mentioned, can help you sell your home for more than your asking price. This is not always a cost-conscious decision though; take a look at the rest of your home. Will it need upgrades? Are you appealing to buyers who want to renovate and make the home their own? Or those who want to move right in, turnkey style? If the latter, you can get a better price by having a flooring contractor install hardwood.
 2. If you have an older home, peel away the carpets.
Find out what is underneath those old wall-to-wall carpets. Often times, it is original wood flooring. In this case, it is worth the time and effort to remove that carpeting and restore the floor to its former glory. Today's buyers are turned off by obsolete – and potentially unhealthy – carpeting. Give them a blank canvas on which to imagine their dream home.
And then proceed directly to tip #3!
3. If you have wood floors, restore them.
If you are up to the DIY challenge, you can restore your floors and prepare your home for a great selling season. How do you do it?
4. Sand your floors. If you have little to no experience restoring and sanding floors, opt for a random orbital sander. There are affordable models from big-name brands such as Bosch, Craftsman, DeWalt, and Makita. As long as you keep the sander level, there is little chance of damaging the floors. Warning: it does take time, so if you're not patient, see your flooring contractor!
5. Health and Safety Tip: Be sure to use a respirator, gloves, and safety eye-wear. Sanding kicks up a tremendous amount of dust, and you should always protect yourself. Proper ventilation is another must.
6. Check for nicks and gouges. After you have sanded, inspect your floor for little nicks and gouges – made by the sander or by time and traffic. Invest in some inexpensive wood putty (available at home improvement stores), a broad knife, and some sandpaper. Carefully read the instructions and apply the putty with the knife. Sand when dry so it is a consistent finish.
7. Remove all the dust. Vacuum and wipe down all surfaces to remove as much dust as possible. This creates a favorable surface for the finish and ensures it applies smoothly and evenly.
8. Seal as soon as possible. If you can, apply the sealer/finish as soon as you're done sanding. Choices include:
Varnish: The glossier the varnish, the better it stands up to traffic. One downside: it tends to darken with age. However, it is much easier to spot treat than polyurethane.
Polyurethane: This is a popular choice because it stands up very well to traffic and wear. However, it does not spot-treat well; you'd need to refinish the floor.
Penetrating Sealer. This is extremely easy to spot-repair, but it is not as durable as varnish or polyurethane.
A flooring contractor can help you determine the right finish as there are trade-offs for each one.
When you seal the floor, use a sheepskin applicator and apply the product as evenly as possible. Do not use too much: excess sealers just collect on the surface and can discolor or warp the floor.
9. Follow up. After the sealer is dry, buff the floor. Check the manufacturer's recommendations; typically you will buff with No. 2 fine steel wool. Vacuum and wipe the floor again to remove any dust. Pay particular attention here; dust can embed itself in the sealer and leave behind an ugly, bumpy finish.
10. Apply your selected finish wax. You will need to apply two coats. Read the instructions so you have the proper amount of drying time in between applications. Do not move any furniture in for at least 24 hours.
A Word about Finish Colors
Neutral is always on trend. Elena Frampton, a partner at Curated, an interior design firm, advises against going too dark or too light. "Anytime there's a high contrast, there's a vulnerability. If the floor is dark, it will show wear over time. If it is very light, it will just show everything. We tend to propose a rich medium shade, because it will wear better over time and serve as a neutral foundation."
Remember that "blank canvas" we talked about? Choosing a neutral finish will help you provide that to potential home buyers.
Hardwood floors are major selling points. Whether you need to undergo hardwood floor installation or simply revive the beautiful beams under your feet, making the most of this feature will help you get a great price for your home.