5 Reasons ECF&I is the Leading South Florida Flooring Contractor
When you make the decision to install commercial floors, whether it's for a brand new space or an upgrade to an existing space, it's not one you make lightly. It's a big project, and it's one that you're going to be living with for at least several years. That's why it's so important to go with a South Florida flooring contractor you can trust. You want a company who is experienced, dependable, and goes above and beyond your expectations. East Coast Flooring & Interiors is that company, and here's why: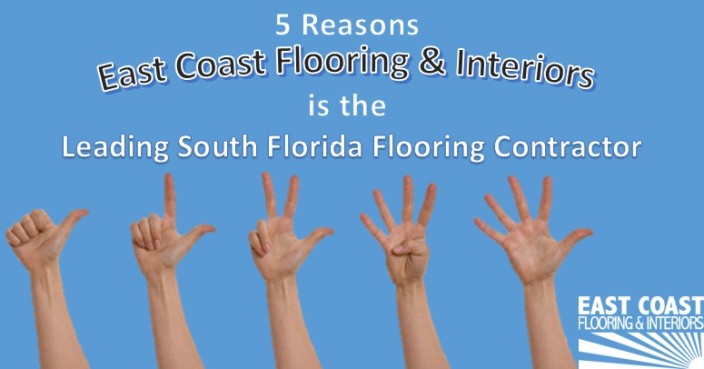 Family-owned and operated since 1985. For more than 30 years, East Coast Flooring & Interiors has been the leading South Florida flooring contractor. Founded in 1985 by Robert Higgins, our operation has expanded to include both residential and commercial flooring installations, along with a huge variety of flooring types. ECF&I is led by a dedicated team of experts, including 3rd and 4th generation Higgins family members.
Experience you can trust. With more than 30 years under our belts, we offer experience you can trust. Each of our staff has expert-level knowledge in their specialized area, whether it's design, sales, or installation. Each person has been carefully trained to provide you with the knowledge and skills you need to make a great flooring choice.
Dedicated to customer satisfaction. We make customer satisfaction a top priority at East Coast Flooring & Interiors, and if you're not happy, we're not happy. We pride ourselves in our excellent track record with customers, and we strongly value our relationships with our clients.
Knowledgeable in a wide range of flooring types. Whether you're upgrading your home's floors or seeking to install commercial floors, we offer a wealth of knowledge in everything related to flooring. Carpet, vinyl, wood, cork, porcelain tile – whatever you want, we have what it takes to meet your expectations.
Staff available every step of the way. When you contact us to talk flooring, we're here to work with you throughout the entire process. From an initial consultation to delivery and installation of materials, we are here to help, answer questions, and be your go-to flooring expert. The job isn't done until YOU say it's done.
When it comes to installing your new flooring, don't settle for second-best. Go with the company that's experienced, knowledgeable, and willing to do whatever it takes to make you happy – go with East Coast Flooring & Interiors!
Tags: install commercial floors, south florida flooring contractor