Install Vinyl Flooring – You'll Love It!
We don't often push one brand over another when it comes to flooring, because all the manufacturers we work with are great! However, we've got to hand it to Armstrong for their top-of-the-line vinyl flooring options. If you're considering vinyl for your South Florida flooring installation, check out some of the latest offerings from Armstrong – all of which we can help you with!
Arteffects – Arteffects comes in calming earthtones that are great for offices, schools, medical facilities, and more.
Chromaspin – Bright and colorful, Chromaspin lets you get creative with your colors AND your patterns for this durable flooring option.
Excelon Stonetex – This isn't your average vinyl. Stonetex comes in a wide array of natural colors, with a granite-like appearance that brings a touch of elegance to your space.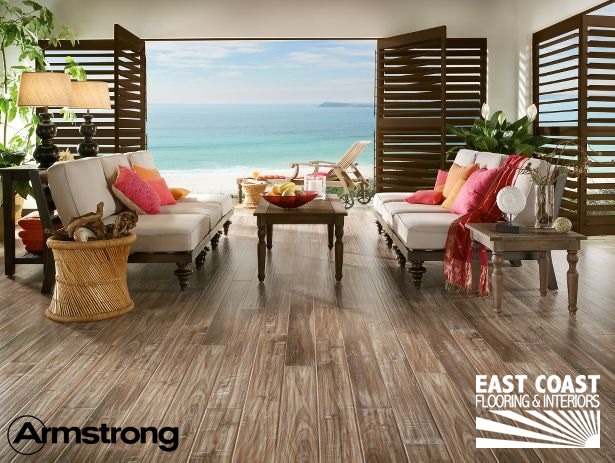 These are just a few of the products in Armstrong's diverse line, and they're great choices when you decide to install vinyl flooring. Here are some other things to know about this flooring option:
Many Armstrong vinyl flooring types qualify for LEED v3 and v4. This means they're better for your home or business, better for you, and better for the environment.
Vinyl flooring is one of the most durable and long-lasting options available, with an easy-to-clean and stain-resisting finish that makes caring for it a breeze.
The options are virtually unlimited with vinyl. If you can think of a color and style, there is a vinyl flooring option that will match it.
Don't leave your South Florida flooring installation in the hands of just anyone – especially when you're working with vinyl. East Coast Flooring & Interiors are vinyl flooring experts, and we can help you find and install the Armstrong flooring that's perfect for your space. Contact us today to learn more about the Armstrong product line and how we can help you find the perfect flooring for your space.
Tags: install vinyl floor, south florida flooring installation