3 Signs You'll Love a DuChateau Wood Floor Installation
Making a decision on what type of residential flooring to install isn't easy. Hardwoods and porcelain tiles are beautiful and elegant, but they're not always the most comfortable to walk on. Carpet is soft and luxurious, but caring for it can be a challenge, especially if you have a lot of traffic in your home. So what do you do? Unfortunately, we can't answer that for you. And actually, we're about to make your decision even more difficult, because we're going to introduce you to another wood floor installation option: DuChateau.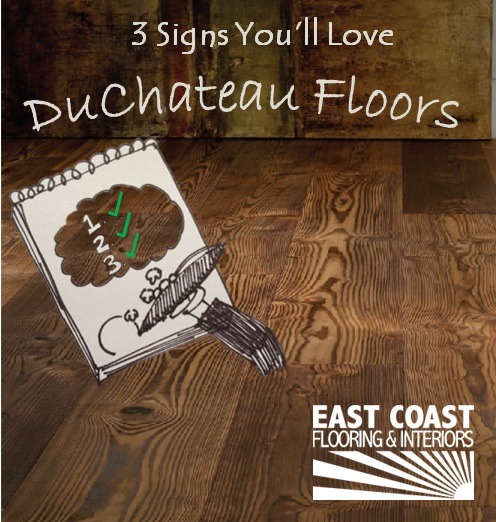 DuChateau floors are made of engineered hardwood, a durable flooring type that's become a fast favorite for many of us. While there are several manufacturers who specialize in this type of flooring, DuChateau is different. These floors are brand new, but through a unique production process that includes distressing, smoking, and brushing, they look like gorgeous antiques.
Here are 3 signs that DuChateau is the residential flooring option for you:
You have an appreciation for all things vintage. The unique old world style flooring of DuChateau will complement your vintage flair. Unlike the high-gloss finishes of most wood flooring types, DuChateau has a hard-wax oil finish that results in a more matte appearance that gives your space a more antique feel.
You like a natural look. Don't let the term "engineered hardwood" scare you. These floors are completely natural, manufactured with a mix of woods.
You're environmentally conscious. Traditional hardwoods are usually made with slow-growing species of trees that take years to replenish. The engineered hardwoods by DuChateau are created using sustainable practices that include sourcing fast-growing trees that are much more easily replaced.
So have we helped or hindered your flooring decision-making? If you've narrowed it down to hardwoods, then it's safe to say that DuChateau sets the bar pretty high in terms of wood floor installation. Contact us today to learn more about these lovely floors and how we can install them in your home!
Tags: duchateau wood flooring, residential flooring, wood floor installation