10 Home Trends to Expect for 2016
2016 is off to a great start, and we've already seen some new flooring trends emerging that are beginning to catch the eyes of homeowners. While home design is an ever-changing animal, here are the top 10 trends that we expect to see this year: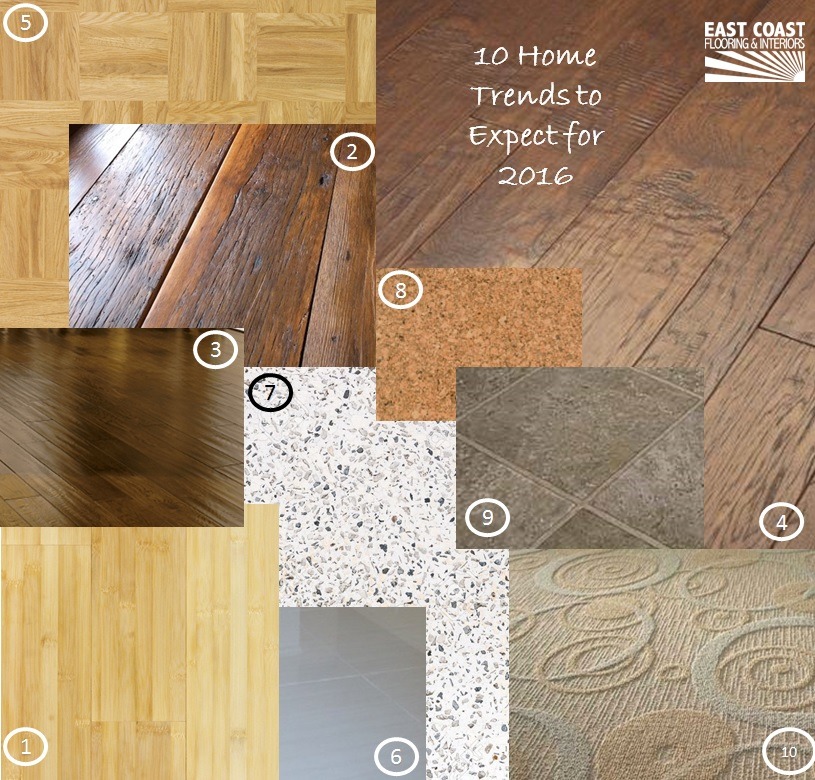 Bamboo – Bamboo may be a grass, technically-speaking, but it becomes a durable hard wood once it's dried. This durability, combined with its natural beauty and versatility, make it a great choice for flooring that we'll see a lot more of in the months to come.
Reclaimed wood – What's old is in style once again, or rather, what's new that's designed to look old is back in style. Factory hardwoods are being designed with the more historic look of hand-hewn planks with charming imperfections, with all the modern technology that you've come to expect from 21st century hardwood floor installation.
Hypernatural – Hypernatural refers to a more natural look, where wood grains, knots and other unique characteristics are highlighted for their rustic charm. This type of hardwood floor installation has become very appealing to folks who want to get in touch with their natural side.
Mixed width planks – Another trend we expect to see in 2016 is the use of mixed width formats that mix and match different-sized wood and tile planks. The end result is an eye-catching, interesting look that is anything but uniform and boring.
Parquet – Geometry is in right now. Parquet floors are predicted to make a huge comeback this year, as more and more people take notice of the puzzle-like herringbone and chevron designs. You can also achieve this look with carpet installation, through patterned carpet or carpet tiles.
Large tiles – Tiles come in all shapes and sizes, but 2016 is going to see an explosion of large format tiles installed throughout the home – especially in warm weather locales like south Florida.
Terrazzo – You'll be seeing much more terrazzo, too, as installations of this composite flooring are predicted to soar this year. Durable, easy to clean, and very long-lasting, this is a great flooring option that will give a space an elegant feel.
Cork – The sound-dampening qualities and softness of cork have made this flooring option a great choice for homeowners. In the past, people thought of cork as only being available in one color – blonde. Now, however, the entire color palette is available in this attractive and versatile flooring option.
High-end vinyl – Formerly the redheaded stepchild of the flooring industry, vinyl has been experiencing a resurgence of late. Gone are the peel-and-stick days of vinyl, what with the new luxury options available. Vinyl is also one of the most adaptable choices, as it can be ordered to look like hardwood, marble, stone, or whatever you can dream up.
Cut-and-loop carpet – In recent years, frieze carpet was all the rage. Now, however, the new trend is moving toward cut-and-loop carpet. This type of carpet installation features loops AND cut loops, which can be installed to display subtle or bold patterns.